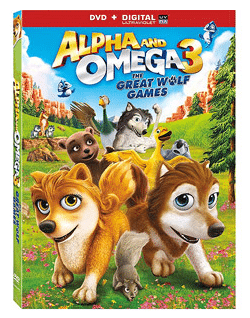 A brand new Alpha and Omega adventure is arriving this month with Alpha And Omega 3: The Great Wolf Games! In a year with such huge sporting events like the Winter Olympics and the World Cup, kids can look forward to a whole new tournament in this family adventure that finds Alpha, Omega and their pups getting together for some friendly competition with the fellow forest dwellers. The pups are back and howl-ing for fun in The Great Wolf Games! Join in on the excitement as the Alpha pack competes against all different animals to win bragging rights for their territory. Laugh along with Stinky, Claudette and Runt in this hilarious and exciting story where the pups learn that with teamwork and training – anything is possible!
Alpha And Omega 3: The Great Wolf Games, arrives on Blu-ray Combo Pack (plus DVD and Digital HD UltraViolet) and DVD (plus Digital UltraViolet) exclusively at Walmart on March 25 from Lionsgate Home Entertainment. The film will be available everywhere on Digital HD, Video on Demand and Pay-Per-View the same day.
For some fun while you're waiting for this newest release, print out this Alpha and Omega Amazing Maze Activity Sheet!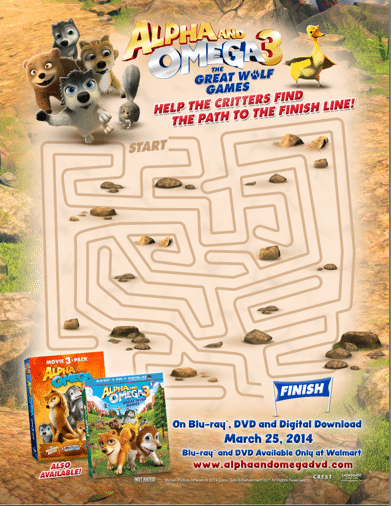 And when you're ready to watch the movie, you can make yourself some special Puppy Treats Snacks with this fun and easy recipe! They're for PEOPLE not PUPPIES!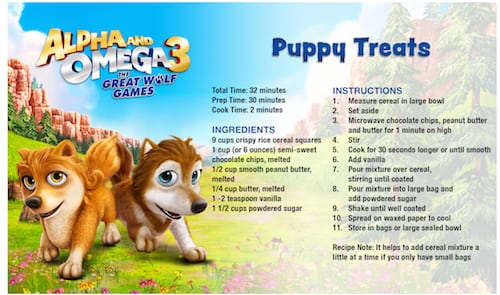 Reader Giveaway: One lucky Jinxy Kids reader will win their own copy of Alpha And Omega 3: The Great Wolf Games. To enter, just complete the entry form below by 11:59pm ET on 4/3/14. Good luck!